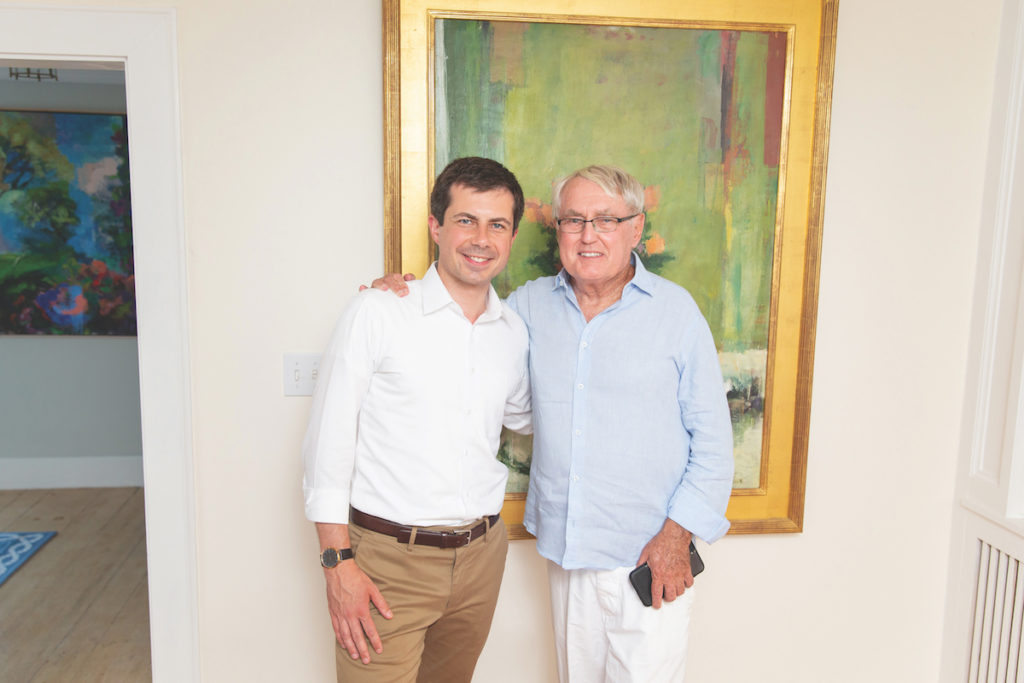 Dan Mullin, a Boston real estate broker who hosted fundraisers for major political figures at his waterfront home in Provincetown's West End, died on Nov. 26, 2020, at age 78. The cause was melanoma.
A devout Catholic who lavished love on a large extended family and an even wider circle of friends, it's impossible to sum up Dan Mullin in a few words. If you had to pick one, Anne Packard would choose "giving."
"When I think of giving, I think of Dan," said Anne, whose paintings Dan collected for 30 years.
He owned 40 to 50 paintings by Anne and her daughters, Leslie and Cynthia Packard, according to Cynthia.
"He had no interest in collecting dead artists," said his longtime friend Bryan Rafanelli, an event planner and political fundraiser. "He wanted to help people out, to buy from living artists."
Dan collected the work of his Provincetown neighbor John Dowd and was a board member and major fundraiser for the Fine Arts Work Center. Knowing that it was a difficult time for the organization, he made phone calls for FAWC in his wheelchair with his nurse this summer, Rafanelli said.
The owner of Daniel A. Mullin & Associates on Newbury Street, Dan lived on Beacon Hill. But his special place was 11 Commercial St., a spectacular gathering spot for friends and family, as well as the site for many weddings, charity events, and political fundraisers over the years. He was affectionately known by friends and family as the "mayor of Provincetown."
In 2015, he hosted a fundraiser for Hilary Clinton there. In 2019, the event at his home was the most lucrative single event in the campaign of Pete Buttigieg, who was one of the 23 contenders for the Democratic presidential nomination at the time.
"When Joe Biden won the election, Dan was the first person who called me and I was so happy he got to see this," Rafanelli said.
Dan supported numerous causes close to his heart, including AIDS Action, the Friends of Caritas, the Good Samaritan Hospice, and the Huntington Theater. He relished knowing people like author Ann Patchett, poet Mary Oliver, Hilary Clinton, and influential business leaders. Rafanelli said 360 people logged in for his virtual birthday party on Halloween this year.
Daniel A. Mullin was born on Oct. 31, 1942 in Arlington to the late Daniel Aloysius Mullin and Katherine O'Keefe Mullin. He was the youngest of five siblings and 21 first cousins. He attended Boston College High School and the College of the Holy Cross and then enlisted in the U.S. Coast Guard. He began his career in real estate with the Dolben Company, working there for 25 years before establishing his own firm, which he ran until his death.
What he enjoyed most was time spent with friends. His favorite quote was "I am the richest man in the world, not in wealth, but in family and friends."
Faith was central to his life and a great comfort at its end. He was an active member of St. Cecilia parish. Though he was openly gay and disagreed with many policies of the Catholic Church, Dan believed "his role was to work inside the tent," Rafanelli said.
Six years ago, Dan was diagnosed with melanoma. And about four years ago, he was given a few months to live, said Cynthia Packard.
"God Almighty, did he fight that cancer," she said. "He just didn't want to let go of life. He was the most grateful person to be alive, even before he was sick."
Dan leaves his sister, Joan Scheib, and husband Frank; his sister-in-law, Carol Mullin, and partner Tim Sturtevant; his devoted nieces and nephews, Mary Jo Swiggett and Robert Swiggett, John Scheib, Katherine Scheib and David Holodak, Daniel Scheib and Lynda Kelly, Julie Scheib-Feeley and Dave Feeley, Paul Scheib and Kim Packard-Scheib, Roslyn Scheib Dahl and Eric Dahl, Caitlin Mullin and Guy Dixon, Megan Mullin Kotwicki and Bill Kotwicki; and his grandnieces and nephews Sam, Nick, Gabriel, Cecilia, Kayla, Tommy, Clare, Brendan, Sonja, Lars, Andrew, Ailish, Shelagh, Susie, and Catie.
He was predeceased by his brothers Richard Mullin, the Rev. John Mullin SJ, and Robert Mullin.
Funeral arrangements have not yet been announced.
In lieu of flowers, donations can be made to St. Cecilia Roman Catholic Church (osvhub.com/stceciliaboston/funds/other-donations) or BC High Mullin Family Scholarship (bchigh.edu/give).
An online guest book can be found at keefefuneralhome.com.