PROVINCETOWN — The sales of three important hotel and restaurant properties have been announced in recent days, with at least one more pending, as the frenzied real estate market on the Outer Cape shows few signs of cooling off.
The biggest deal in the group is the sale of the Brass Key and Crowne Pointe hotels to the Linchris Hotel Corp. of Plymouth in 13 separate transactions on Nov. 18 for a total of just over $25 million.
Four residential properties, separate from the two hotels, were included in the sale, with 25 bedrooms among them, according to town records. Those four additional properties accounted for $2.9 million of the $25 million combined transaction. Another building at 79 Shank Painter Road, which formerly housed the Provincetown Pet Resort downstairs and has some housing upstairs, was also part of that sale, representing $1.6 million of the $25 million total.
Also announced in the past week was the impending sale of the Land's End Inn at 22 Commercial St. to Edmond Macri and Trevor Mikula, Provincetown residents who are building a house nearby on Point Street. And, as previously reported in the Independent, the Crown & Anchor is under contract to Provincetown residents Jonathan Hawkins and Paolo Martini, in an imminent transfer of ownership that became public at a licensing board meeting in October.
The fourth large property includes the Governor Bradford restaurant and five adjacent downtown buildings, which are being offered together for $7.5 million and are listed online as under contract. That group of properties includes 19 residential units with a total of 30 bedrooms, according to the town assessor's reports, as well as seven retail spaces in addition to the restaurant. The centerpiece parcel at 312 Commercial St., which includes the restaurant, an underground bar, and five bedrooms, has not changed hands since Donald Edwards purchased it in 1958.
Hometown Buyers
The historical norm in Provincetown has been that people who own businesses here also live here, at least for most of the year. That pattern appears to have held in the sale of the Crown & Anchor from Rick Murray and Bill Dougal to Hawkins and Martini, and it is also holding in the sale of the Land's End Inn from Stan and Eva Sikorski, who live in the East End, to Macri and Mikula, who live in the West End.
The Sikorskis said they were excited to find local buyers who would maintain the distinctive 18-room hotel as a business.
"We are thrilled that we were able to find Ed and Trevor, who understand the value of the Provincetown arts community," said Eva Sikorski. "They will continue and enhance the inn's contribution to the art scene that makes Provincetown such a unique and special place."
Mikula is a painter who previously had his own gallery here and now is represented by the William Scott Gallery. Macri had a 14-year career at the online retailer Wayfair.com, serving as vice president and chief product and marketing officer before retiring last year. (Macri is also a shareholder in the Independent.) Mikula and Macri are married, and they met the Sikorskis while conducting a large-scale renovation on an adjacent residential parcel where they will live.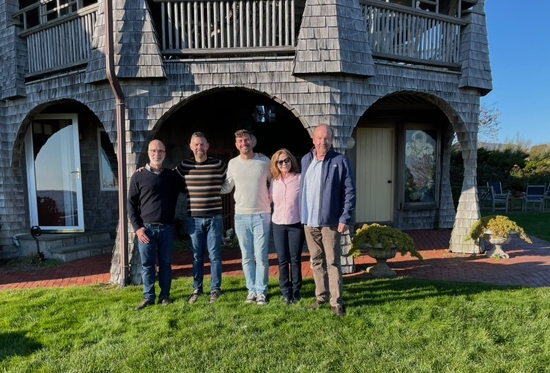 "As we got to know Stan and Eva and spent more time at the inn, we developed a deep appreciation for the inn's role in the community," said Macri. "We are honored to have the opportunity to protect, preserve, and evolve this incredible landmark. Our intent is to do so in a way that ensures it is enjoyed by the town and those who love it for generations to come."
Neither the Crown & Anchor nor the Land's End Inn was publicly listed for sale. According to Rob Tosner, former owner of the White Winds Inn who has been a listing agent for several guest houses, privately negotiated sales aren't that unusual.
"It's always the seller's decision" whom to sell to, said Tosner. In contrast to residential property owners, business owners usually have fewer buyers to pick from. "It's always been rare to get multiple offers on a commercial listing," Tosner added. "We were really thrilled that we got to sell the White Winds as a guest house."
Corporate Buyers
In the last several years, some of Provincetown's largest hotels were bought by out-of-town corporations. In 2000, the Linchris Hotel Corp. bought the Surfside Hotel, which is licensed for 88 rooms; in 2018, Linchris bought the Harbor Hotel, which is licensed for 139 rooms.
Linchris currently owns 29 properties in 14 states with a total of 4,578 guest rooms, according to a company press release announcing the purchase of the Brass Key and Crowne Pointe.
With that sale accomplished, there are now at least four medium-size hotels in Provincetown that are not locally owned.
AWOL, with 32 rooms, was bought by the Lark Hotel Group in 2017. The Breakwater Hotel, with 26 rooms, was bought by the Lexvest Group in 2018.
Crowne Pointe has 37 rooms, a restaurant, and a spa spread across six adjacent buildings. Linchris paid $10 million for the four parcels that make up the property.
The Brass Key has 43 rooms and an indoor-outdoor bar, the Shipwreck, spread across nine buildings. The three parcels that make up the property were bought for $10.7 million.
These are still relatively large properties by Provincetown standards. The average guest house here has 8 to 14 rooms. Nonetheless, recent sales seem to suggest that the smallest hotels are the most vulnerable to conversion into single-family homes (see "As Guest Houses Sell, Many Become Private Homes, Nov. 11, page A5), while the largest ones are more appealing to corporate buyers.
In spite of these two market trends, the traditional, locally owned Provincetown hotel manages to survive.