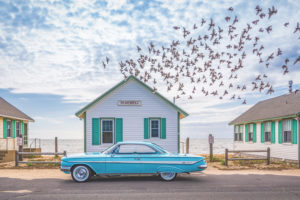 Chevy Wins a Bevy of Awards
The Independent's staff photographer, Nancy Bloom of Truro, shot this image of a 1961 bubble-top Chevy last October in front of the Bluebell, one of Day's Cottages at Beach Point in North Truro.
"The car belongs to John Buchanan of Attleboro, a member of the Mass Cruisers Auto Club, who was participating in the club's annual historic Route 6 cruise from Seekonk to Provincetown," Bloom says. "My husband, John Bloom, is an antique car enthusiast, and we are club members. I've been working on a series of classic car images. When a flock of starlings flew over the cottages, I couldn't stop clicking."
In February, Bloom submitted the photo to a juried show at the Creative Arts Center in Chatham, where it came in second. In early April, it won first place at a masters' contest of the Cape Cod Art Center Camera Club in Barnstable. And now, it has won best in show at the Plymouth Center for the Arts' "Fine Art of Photography" juried show and a $500 prize. Congrats, Nancy!
Provincetown Theater's Townie Variety Show
In its quest to keep live-performance fans happy on Memorial Day weekend, the Provincetown Theater is presenting a virtual fund-raiser, Our Townie Variety Show, at 7 p.m. on Sunday, May 24, featuring a diverse crew of Outer Cape entertainers, including Miss Richfield 1981, pianist John Thomas, rock singer Anne Stott, flutist Eric Maul, modern dancer Vinny Marra, accordion player Terri Conti, Benwa Kramer on the ukulele, classical musicians Chan Varon-Collins and Justin Torrellas, Town Crier Kenneth Lonergan, and an online reunion of the cast of last summer's Sweeney Todd — Trish LaRose, Madison Mayer, Christopher Sidoli, Megan Amorese, and the Demon Barber himself, Tom Hewitt.
Also making cameo appearances: Scream Along With Billy's Billy Hough and Sue Goldberg, Unitard's Nora Burns, Zoë Lewis, Tupperware partier Dixie Longate, burlesque star Chris Harder, and others.
The theater's artistic director, David Drake, will host the evening, which will stream free via provincetowntheater.org, though a donation link will be available throughout the show.
Tianna Esperanza Plays Payomet's Tiny Tent
Payomet Performing Arts Center in Truro is presenting a live-streaming free concert this week on its Facebook page.
On Wednesday, May 27, at 6 p.m., singer-songwriter Tianna Esperanza, a Cape native whose music mixes shades of Sade, Public Enemy, and Gil Scott-Heron, will deliver a virtual performance. This young artist's lyrics have protest undertones, and her jazz stylings are accomplished beyond her years. Here's a post-Memorial Day event that's not to be missed.